A catching book which you cannot put out of your hand again!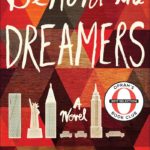 Imbolo Mbue is a astonishing and multifaceted writer.
The country of the dreamers – also known as the land of opportunity, named USA – is the big aim of Jende Jonga and his family. There, in the dreamland, they will be unbound and free and can finally live a better life! Eventually he scavange one of the passionatly desired visa and is now ready to put everything in place for his dream to come true. In New York his family meets the Edwards, a rich bankers family. Through his work as chaffer for mister Edwards the lives of the two families become entangled and reflected by each other.
Imbolo Mbue is introducing the caracters, their strengths and weaknesses, their good and bad moments in an empathic way to the reader and connects their faiths with. At the same time, when creating the human portraits, also portraits of Cameroon and the US develop.
In total a vastly recomandable book!
IMBOLO MBUE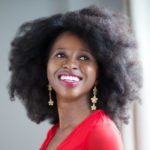 Is originated in Limbe, Cameroon. She studied at the Rutgers University and the Columbia University. She is living in the USA since 10 years and currently in New York.
Behold the dreamers is her first novel. We hope  that many more will follow!
Traudel Mund (translated by Andrea Bieber)