The voice of Africa in Pforzheim no longer sounds!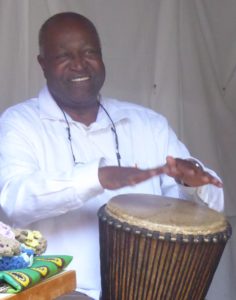 We were shocked to heard on April 1st that Brother Martin probably died of pneumonia associated with Corona. We mourn together with his wife Berthe, his children and grandchildren.
With brother Martin the association MAHZUKAM and above all its chairman Hanne Nies-Ramminger had a friendship of many years, Martin Ngnoubamdjum, whom everyone only called brother Martin, came from Cameroon. His main concern was to bring the people of Africa and Europe closer together. He lived this with his association "Africa Presence" and with the Pforzheimer Africa Festival. And with his drum art, with which he also enriched events of our association. Always full of joie de vivre, he won the people around him.
The Mayor of Pforzheim, Peter Boch, said in the newspapaper: "With his strong, optimistic charisma, he worked tirelessly for his home continent, always keeping an eye on the needs of the people there. His death is an incredible loss for Pforzheim, for the cultural life of our city, for the Evangelical Church, but also for the integration work that we do. "